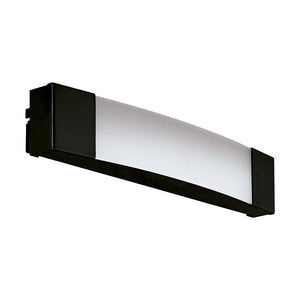 Siderno 8W LED Vanity Light Black / White
Vanity Lights provide excellent lighting for your daily routine while still providing a great-looking design, becoming a fashion statement to your bathroom or dressing mirror.
It's a high-quality fixture with minimalist styling and great light output, also a practical and functional lighting solution for a primarily task-oriented space.
The Siderno Vanity Light will add sophistication, provide proper lighting and add a sense of glamour to any space.
Specifications
- Colour: Black
- IP Rating: IP44
- Input Voltage: 240V
- Lamp Base: Dedicated LED
- Dimmable: No
- Wattage: 8.3W
- Lamp Colour Temperature: 4000K (White)
- Lumen Output: 900LM
Dimensions
- Width: 60mm
- Projection: 55mm
- Length: 350mm