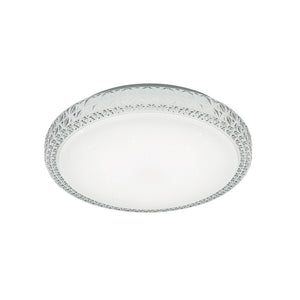 Lovato 18W LED Dimmable Ceiling Flush Diamante / Tri Colour - MA4918
Features
The famous Lovato 18W Tri colour LED oyster, features a Diamante Style Cover decoration which is the perfect combination of clean contemporary design with a gorgeous centre feature, which will add some sparkle to any room.
Boasting an impressive 1440 lumens with energy saving LED technology, the Lovato has a 3 stage dimming function whivh can be done via your wall switch which will radiate warm light around living areas, bedrooms and lounge rooms.
The Lovato is perfect for adding a touch of luxury to any space in your house.
Specifications
- Input Voltage: 240V
- Wattage: 18W
- Colour Temperature Changing: 3000K / 4000K / 5000K
- Lumen: 1440 Lumens
- Dimmable: 3 Stage Dimmable via Wall Switch 100% > 50% > 20%
- CRI: >80
- Energy efficient: Energy saving LED
Dimensions
- Width: 290mm
- Height: 60mm