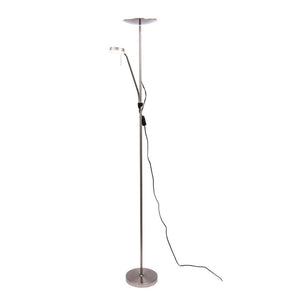 Sleek, stylish and modern, the GEORGIA MOTHER AND CHILD Floor Lamp looks great in any room needing indirect and task lighting.
The slim lamp stand offers a neat appearance with its circular base giving adequate stability. 
While the white cone 'Mother' lampshade atop the stand provides plenty of indirect lighting to add ambiance to a dim space.
The GEORGIA MOTHER AND CHILD Floor Lamp also has an adjustable 'Child' lamp that can be moved and clamped along the lampstand to suit the preferred height of the user. With a flexible arm, the light can be directed to offer the optimum task lighting.


Specifications For Child Lamp:
Bulb Type: Internal LED - 3000K (Warm White)
Switch: Cordline On/Off Switch
Colour: Brushed Chrome

Specifications For Mother Lamp

Bulb Type: Internal LED - 3000K (Warm White)
Switch: Cordline On/Off Switch
Colour: Brushed Chrome

Item Dimensions:
Height: 1800mm (H)
Base Dimensions: 230mm (W)
Shade Dimensions: 230mm (W)