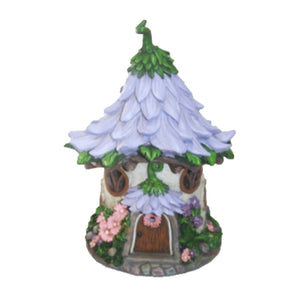 Beautifully glittery and very enchanting, this purple flower fairy house night light is just divine.
It will need to be plugged in like a normal light and has a soft and magical glow when turned on.
The house is made of fresh resin and is lovingly hand painted and is so glittery. 
The house stands on stone with a green mossy base adorned with pretty pink and purple scattered flowers and has some stairs leading up to the wooden look fixed fairy door with a pink flower peephole. The glittery purple petal top has such pretty coloured paint and the light emits from the brown fairy windows at night. 
The Fairy Home itself is a gorgeous figurine fit for any princess's room and would be a stunning edition for a nursery or toddler's room. 
Specifications: 
Bulb Type: Internal LED
Switch: Cordline On/Off Switch
Colour: Purple / Pink / Green / Brown
Item Dimensions: 
Height: 270mm (H)
Width: 180mm (W)