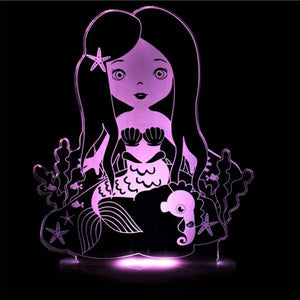 MY DREAM LIGHT MERMAID NIGHTLIGHT
A lovely addition to the Dream Light range by Delight Decor, the mermaid night light is sure to delight your child.
My Dream Lights, designed in Australia by Delight Decor, are a range of LED night lights that are designed with the needs of parents in mind. These cool night lights are suitable to leave on all night and can be dimmed to provide just the right level of lighting for your needs. Supplied with a remote control, children will be excited to choose their favourite colour before bed. This plug in night lamp also features a one hour automatic sleep timer.
The My Dream Light range has been fully tested to meet Australian Standards for Children's lighting to provide even more piece of mind.