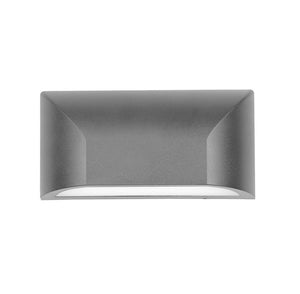 Bloc 5 Watt Exterior LED Wall Light Silver
Outdoor lighting makes a home look welcoming, safe, comfortable and more attractive. Adding charm and personality with the right lighting will make you want to spend more time outside.

Wall Lights are a fantastic way to breathe new life into your property, enhance the aesthetic and increase the value of your home through lighting.

A wall light can create more depth in a landscape and the Bloc Wall Light will add a modern look and a unique personality to any space.

The Bloc will increase the sense of brightness, will make your area feel larger and make any place more pleasant and inviting.

The Bloc, a surface mounted LED wall light that illuminates downward to create that subtle welcoming effect. The Bloc is also rated at IP65, giving you flexibility in indoor and outdoor applications.

Bloc is constructed from UV stabalised PVC. Behind this lens sits energy saving 5W LED, that will provide you with a total of 400 lumens of light output.

Specifications
- Wattage: 5W LED
- High Lumen LED
- Colour Temperature: 4000K Cool White
- No UV or IR radiation
- Colour Render Index (Ra): >80
- Lumens: 400 Lumens
- Dimmable: No
- Replaceable globe: No
- Order Code: BLOC EX5-SL

Dimensions
- Height: 113mm
- Width: 220mm
- Projection: 50mm