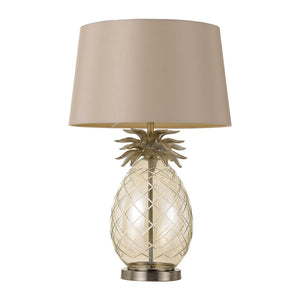 Versatile and functional, portable Lamps can make a world of difference to the overall feel of your interior design.
Choosing the right Table Lamp base which has an eye-catching appearance and when illuminated will definitely draw attention to itself is one of the main goals of a designer to make a space inviting.
Table lamps can be added to a room as decorative or functional pieces of lighting, complementing and enhancing the style of a room and playing a big part in setting the lighting ambiance through the size and thickness of the shade and strength of the bulb.
Create a warm and welcoming atmosphere in your home with a stylish table lamp.
Whether for your loungeroom or for decoration, the ANANAS TABLE LAMP with Champagne/White will complement your room without competing with it.
 The pineapple-inspired lamp gives sophistication to any room.

Specifications:
Bulb Type: E27
Switch: Cordline On/Off Switch
Colour: Champagne with Champagne Shade
Item Dimensions: 
Height: 585mm (H)
Base Dimensions: 350mm (W)